DEAR VALUED CUSTOMER
WE ARE STILL OFFERING HOME SOFTENER SALT DELIVERY. BUT DUE TO THE COVID-19 VIRUS WE WILL NOT BE ENTERING ANY HOMES. WE WILL LEAVE SALT AT A DESIGNATED AREA.
THANK YOU
**Softner salt delivery available on Fridays. An additional $1.50 will be added to each bag. Minimum 5 bag order. **
Power Thaw
Melts to -20°F
Calcium chloride, Magnesium chloride and AMC combine to make Power Thaw fast and effective in any type of weather, even when the temperature drops to -20°F. Dyed blue for easy application and high visibility
*Safe for concrete and vegetation
Thaw Master
Melts to -10°F
Thaw Master's unique blend–coupled with AMC–quickly generates heat to melt snow and ice. Dyed green for easy application and high visibility.
*Safe for concrete and vegetation
Ice No Mor
Melts to -10°F
Endcaps, shelves or simply stacked in high traffic areas, Ice No Mor is retail-friendly and delivers results. Dyed blue for high visibility and proper placement.
*Safe for concrete and vegetation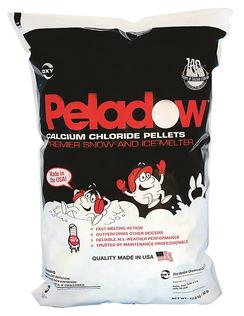 Peladow
Melts to -25°F
Melts ice 2 to 5 times faster than other ice-melt materials. Absorbs moisture and generates heat to speed melting. Contains over 90% calcium chloride.
*Safe for concrete, vegetation and brick pavers.
Magnesium Chloride
Melts to -13°F
Less damaging to concrete. Less corrosive than other chloride-based de-icers. Leaves no residue.
*Safe for concrete, vegetation, pets and roofs
Winter Paw
Melts to -15°F
Our safest, most environmentally friendly ice melt product. Convenient sized jug with shaker top. Won't irritate paws or skin.
*Safe for concrete, vegetation, pets and children
ProSlicer
Melts to -20°F
ProSlicer is a high performance, treated rock salt. ProSlicer is one of the best values in pre-treated deicers available. Safe on skin, sidewalks, leather, metal, plants and pets.
*Safe for concrete and vegetation
Winter Melt
Melts to 5°F
Made with pure salt, Winter Melt Ice Melt Salt is the natural choice to melt ice in temperatures as low as 5 °F / -15 °C. Always a cost-effective way to maintain your driveways, sidewalks and walkways on icy, cold days.
Ice Patrol
Melts to 5°F
Ice Patrol is an economical and effective ice melter. Optimally sized granules for maximum performance. Flows freely through commercial spreaders. Environmentally safer way to go when dealing with the dangerous hazards caused by ice. Specially formulated deicer products work hard to eliminate ice, with minimal harm to the environment and your property.

Workers at the feed mill where very friendly and helpful and had us unloaded and on our way asap.

Chrissy Brad Blair
Good location and easy access to lots of pumps. Friendly staff.

Ben Edgren
"This is my go-to station for fueling up the car. It's the only place around that I know of that carries non-ethanol gas. It's great for all the toys, but my car loves it too - much better gas mileage. It's worth the extra cost per gallon...
Once in a long while I'll need a coffee or something to eat. The convenience store is plenty nice with lots of offerings. I wouldn't do my grocery shopping here, but it's great for a coffee and breakfast sandwich in the morning."